Last week my sister in law Tosha Hoyt (Tanya's younger sister) came to visit us here in Salt Lake City she lives in the little town of Kanab down in Southern Utah. She is a potter and has a
store on Etsy called ToshasPottery
. Over dinner she talked to us about our quilt sales and we talked to her about her Etsy sales. For us Etsy has been fairly good, we are selling quilts (not as many as I would like, but not as few as I though I would) and enjoying it. She on the other hand has not had great success online but, has been doing amazing work selling at craft fairs. She has been trying to get us to do the same.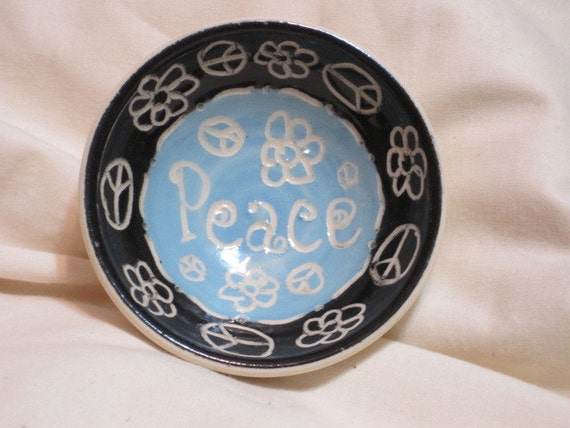 Above is one of her bowl's
as listed on Etsy
. So in our conversation we talked about our fear of trying the craft fairs and that is that my items are big and costly and many of the people going to these things buy a small item but a big $100+ quilt might be out of range. So she suggested that we needed to make some smaller items. Tanya and I decided more the 6 months ago that we want to try a craft fair, but decided to do one we need at least 50+ quilts so there are a wide variety for people to chose from, but now she thinks we need hot pads and table runners too.
So these are the first 2 attempts (they are front and back pictures of 2 hot pads) They turned out pretty cute. I showed Tanya the top one and she told me that is her's and I could not sell it.
Even this one did not turn out too bad. The funny thing is all of this material for both hot pads was in a scrap pile that we had decided would only be good for string blocks. They have insulbrite batting in them (1 layer) and that is it. Tanya tells me that I need more then just one layer but I think it looks and feels great.
I did take my sister in law at her word and also did some table runners. But that will be for another post (as i was a little more serious on them) and have 6 table runners in the works that will be up in a post some time in the next few weeks when I get them all done and pictures taken.